Give your Newborn the Comfort & Security of the womb by swaddling them in our beautifully designed SnugglyCushion™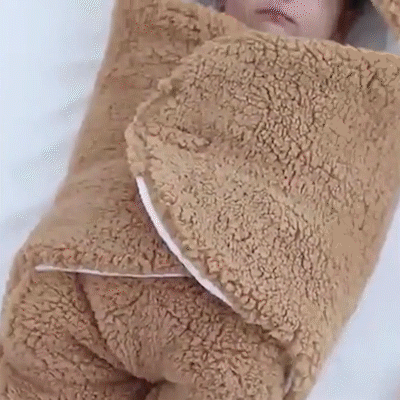 Our adorable design will make your baby look like a teddy bear, or even cuter? Hold your baby close to your heart with our cutest cozy baby blanket, that helps you keep your baby warm on cold nights!
Get your camera ready for a lovely photoshoot!
Why SnugglyCushion will change your life?
🧸 DESIGNED WITH SECURITY: Mimics the feeling of being in the womb & reduces startle reflex
🧸 LEGS ARE FREE TO MOVE: Room to move their little legs when active and awake
🧸 MAINTAINS BACK SLEEPING POSITION: Helps in keeping the baby positioned whilst sleeping on it back.
🧸 PREVENTS UNNECESSARY WAKE UP: Reduces the wakeup caused when a baby get the sense of falling.
Pamper Your Little One With Softness And Comfort
Made with loving care, tender texture and all the requirements of your little one. Our blanket is made of materials that are soft and kind to your baby's skin. The best way to keep your baby comfy, warm and cozy!
👶🏻 MADE WITH PLUSH COTTON: Soft and warm, takes care of your baby's health, safe and harmless.
👶🏻 PLEASANT FOR BABY'S SKIN: Made of plush cotton both inside and out, keeping them warm in the cold winter.
👶🏻
VELCRO CLOSURE:
Will not let the baby feel suffocated, and will not affect baby's natural growth.
👶🏻 BEAR DESIGN: With a cute little bear as inspiration, offering your baby a comfortable sleeping environment.
👶🏻 EASY TO WASH: Simply pop it into your washing machine for a quick wash.
A Cute Gift From A New Parent, Grandparent, Uncle Or Aunt
Choosing The Right Size 
This sleeping bag is suitable for babies 0-12 months. Specifically designed to be adjustable with skin-friendly velcro so your baby won't outgrow it too fast and will have plenty of room to adjust to stay comfortable. 
Months (0-6) = 78cm (width) x 62cm (length) 
Months (6-12) = 90cm (width) x 78 cm (length)
We recommend to choose the larger size if you can't decide between two sizes 👍
Frequent Questions Asked From Parents
What's The Quality Like?
Our main priority is to provide parents with high quality, premium products to provide them with some peace of mind. In fact, we are so proud of our products, we offer a 30-day Money-Back Guarantee to all of our customers.
What's Made Of?
Main: 100% Polyester, Lining: 100% Cotton
Is SnugglyCushion™ Safe To Use?
We aim to make all of our products as safe as possible. That's why we ask to please make sure your baby's head is not covered when they are left unattended or sleeping.
Is It Machine Washable?
Yes it's Machine Washable at 40 Degrees
Our Guarantee
We back our products up with a risk-free 30-day guarantee. If you don't have a positive experience for any reason, contact us within 30 days of receiving your order and we will make sure you are 100% satisfied with your purchase. We have email support that will respond within 24 hours. Use the Contact page if you need assistance.